Ұлыстың ұлы күні – Әз Наурыз!
On March 20, 2023, the SKMA team celebrated Nauryz on the grounds of the military department. A festive dastarkhan was organized at all departments, as well as a concert program organized by the Department of Social Affairs and Youth Policy.
The event was opened by M. Yesirkepov, First Pro-Rector of the SKMA, and distinguished guests, as well as veterans of the Academy, who congratulated the staff of the Academy on the holiday of Nauryz and expressed their wishes.
The College of Medicine and the international faculties of medicine, pharmacy, and postgraduate education at SKMA presented their speeches.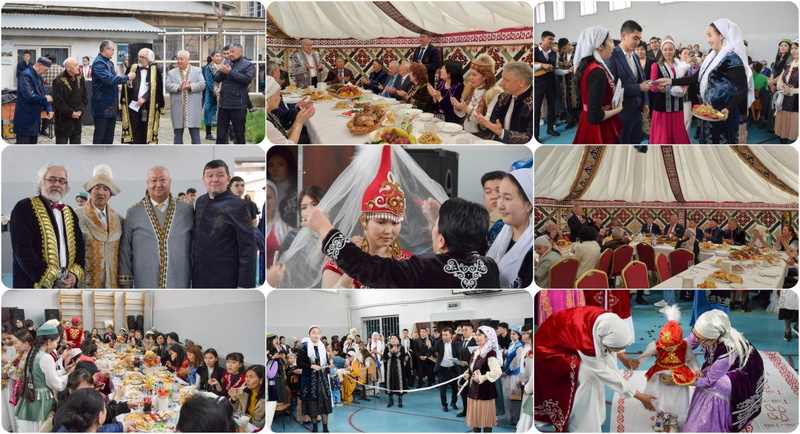 According to Kazakh national traditions, national games were played: "Tusau Kesu", "Qyz Uzatu", "Betashar", "Best National Clothing", "Best Skit", "Best National Food", "National Sports", including lifting a kettlebell and tug-of-war.
In the nomination "Best National Clothing" distinguished the Faculty of Pharmacy, in the nomination "Best National Cuisine" - Faculty of Postgraduate Education, in the nomination "Best Scene" - Faculty of Medicine and Medical College at SKMA.
The event continued with a concert program developed by active students in the large auditorium of the SKMA, accompanied by songs and dances in the national style.
This year a competition on "national traditions" was organized among student organizations, at the end of which the winners and participants were awarded a letter of thanks from the Office of Social Affairs and Youth Policy.
Guests of the holiday enjoyed the dishes prepared by student organizations.
From the bottom of our hearts we congratulate all the staff on the holiday «Ұлыстың ұлы күні – Наурыз»!

190 views