Dean's office of residency
Dean's Office of Residency
Residency is a form of in-depth postgraduate medical education on clinical specialties. Training of specialists in residency is carried out to ensure the health care industry with qualified personnel. Resident-trainees, who have completed residency training, are issued a document of state sample.
SKMA carries out 29 educational residency programs
List of educational residency programs implemented at the
South Kazakhstan Medical Academy for the 2022-2023 academic year
| | | |
| --- | --- | --- |
| № | Name of the educational program | Duration of training |
| 1 | 7R01101 «Adult, children's cardiology» | 3 years |
| 2 | 7R01102 «Adult, children's rheumatology» | 2 years |
| 3 | 7R01103 «Allergology and immunology, for adults, children» | 2 years |
| 4 | 7R01104 «Adult, children's gastroenterology» | 2 years |
| 5 | 7R01105 «Adult hematology» | 2 years |
| 6 | 7R01106 «Children's oncology and hematology» | 2 years |
| 7 | 7R01107 «Adult, children's pulmonology» | 2 years |
| 8 | 7R01108 «Endocrinology for adults, children» | 2 years |
| 9 | 7R01109 «Nephrology for adults, children» | 2 years |
| 10 | 7R01111 «Infectious diseases, for adults, children» | 2 years |
| 11 | 7R01113 «Psychiatry for adults, children» | 2 years |
| 12 | 7R01114 «Radiology» | 2 years |
| 13 | 7R01115 «Radiation oncology» | 2 years |
| 14 | 7R01117 «Anesthesiology and resuscitation for adults, children» | 3 years |
| 15 | 7R01120 «Neurosurgery for adults, children» | 4 years |
| 16 | 7R01123 «Pediatric surgery» | 3 years |
| 17 | 7R01124 «Adult oncology » | 2 years |
| 18 | 7R01125 «Traumatology-orthopedics, for adults and children» | 3 years |
| 19 | 7R01126 «Urology and andrology for adults, children» | 3 years |
| 20 | 7R01128 «Otorhinolaryngology for adults, children» | 3 years |
| 21 | 7R01130 «Pediatrics» | 2 years |
| 22 | 7R01131 «Neonatology» | 2 years |
| 23 | 7R01132 «Obstetrics and gynecology for adults, children» | 3 years |
| 24 | 7R01136 «General surgery» | 3 years |
| 25 | 7R01137 «Adult, children's neurology» | 2 years |
| 26 | 7R01138 «Family Medicine» | 2 years |
| 27 | 7R01139 «Therapy» | 2 years |
| 28 | 7R01140 «Physical medicine and rehabilitation for adults, children» | 2 years |
| 29 | 7R01142 «Clinical pharmacology» | 2 years |
| 30 | 7R01134 «Forensic medical examination» | 2 years |
| 31 | 7R01150 «Pathological anatomy» | 2 years |
The structure of the dean 's office includes:
– Dean
– Methodist
Information about the staff of the Dean's Office of Residency:

1.Dean, c.m.s., professor – Bektenova Gulmira Erseitovna
2.Methodist – Zhidebayeva Balnura Kemelbekovna
3.Methodist – Ualikhanov Suleimen Sabitovich
4.Methodist – Alseitova Aruzhan Maratkyzy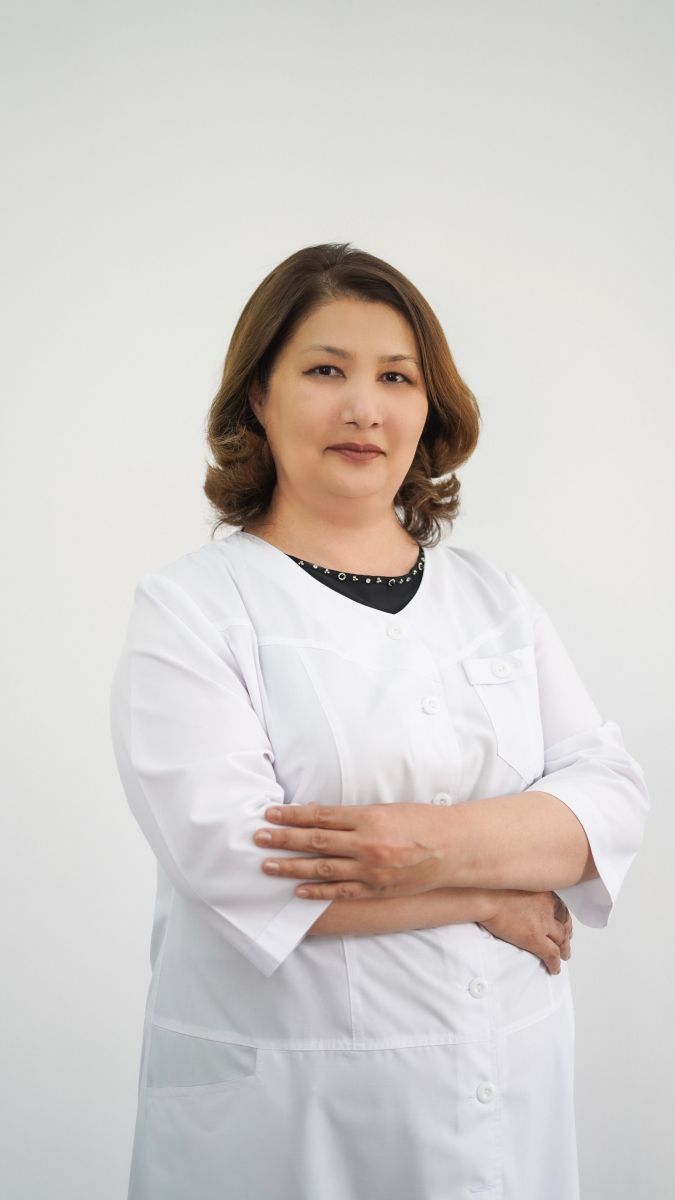 Bektenova Gulmira Erseitovna
Dean of residency
Candidate of medical sciences, professor
Zhidebayeva Balnura Kemelbekovna
Methodist
Alseitova Aruzhan Maratkyzy
Methodist
The main purpose of the Dean's Office of Residency is the training of highly qualified clinical staff
The main tasks of the Dean 's Office of Residency are:
- implementation of activities in the field of training of highly qualified personnel in residency;
- implementation and further improvements within the department of the quality of training at the present level that meets the requirements of state educational standards and modern trends that are emerging in the market of educational services;
- maintenance of high academic and labor discipline among students, good order and organization.
The main functions of the Dean's Office of Residency:
- Department coordinates and supervises the educational process and scientific activity of residents.
- Organizes, supervises and regulates all forms of educational process in the departments involved in training of residents.
Contact details:
Shymkent, Sq. Al-Farabi, 3, main building, 3-floor, 324-room
Tel: 8 (7252) 39-57-57 (1028)
- Job description of the Dean of Residency
- Job description of the methodologist of the Dean's office of residency

1898 views