Dear colleagues, leading scientists and specialists of Medical Universities, Research Institutes, and Research Centers, Med.Clinics, residents, master's and doctoral students!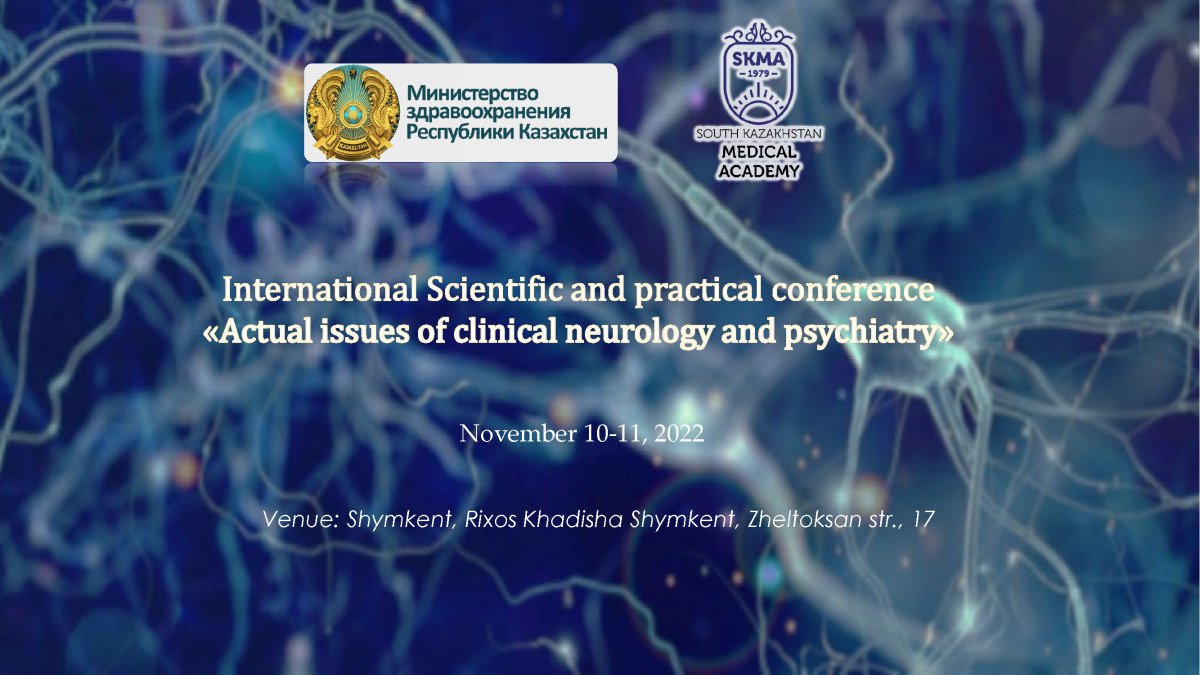 We invite you to take part in the international scientific and practical conference "Actual issues of clinical neurology and psychiatry", which will be held offline and online in Shymkent on November 10-11, 2022.
This event is included in the list of international scientific and practical conferences approved by the Ministry of Health of Kazakhstan for 2022.
The organizers of the conference: The Ministry of Health of the Republic of Kazakhstan, the Department of neurology, psychiatry, rehabilitation and neurosurgery of the South Kazakhstan Medical Academy with the support of the Department of Public Health of Turkestan region and the Department of Healthcare of Shymkent.
Conference venue: Shymkent, Rixos Khadisha Shymkent, Zheltoksan str., 17. Registration of participants at: 8.00-8.30
A little earlier, on November 9, at the regional clinical hospital located in Shymkent, a master class will be held with the participation of well-known scientists from Great Britain and Russia – Professor Holden Henry, his student R.B. Kayyrzhanov, neurogeneticist, Ph.D. S.A. Kurbatov. On this day doctors will meet with patients, examine them, consider each clinical case separately.
The conference program covers the issues of diagnosis, treatment and rehabilitation of diseases of the nervous system, both pediatric and adult neurology. Speakers from near and far abroad will present interesting clinical cases, get acquainted with modern achievements in the discussed areas and practical skills.
The conference is attended by Academician of the Russian Academy of Sciences, founder of the molecular genetic direction in the study of diseases of the central and peripheral nervous system S.N. Illarioshkin, prof. Oskara Djidem from Turkey, member of the ILAE Educational Commission and tutor of the VIREPA course, as well as among the organizers of the EPODES course-ILAE Epilepsy Surgery.
Along with leading Russian specialists, neurosurgeons from Turkey are taking part in the symposium on Stroke, who will share their experience in the treatment of acute cerebral ischemia, microsurgery of aneurysms and various transnasal operations. Leading rehabilitologists from St. Petersburg and Kazan participated in the symposium on neurorehabilitation. Let's focus once again on the topics of the conference: neurodegenerative diseases, Parkinson's disease, dementia, epilepsy, strokes, neurorehabilitation, orphan diseases, selected issues of psychiatry and pain syndromes in neurology and, of course, the results of the competition among young scientists will be summed up.

Conference speakers:
TuruspekovaSauleTleubergenovna, Chief Neurologist of the Ministry of Health of the Republic of Kazakhstan, Head of the Department of Nervous Diseases of the Kazakh National Medical University named after S.D. Asfendiyarova, MD, professor, member of the Association of Neurologists of the Republic of Kazakhstan, the League of Neurologists Prim WFN, AD/PD, IPA, ISPRM, Almaty, Kazakhstan.
ZhanaspaevaGaliyaAmangazievna, Chief Freelance Specialist in Adult FMR of the Ministry of Health of the Republic of Kazakhstan, Head of the Rehabilitation Department of the NSCTO named after academician Batpenov N.D., Candidate of Medical Sciences, FMR doctor of the highest qualification category, Astana, Kazakhstan.
Adilbekov Yerzhan Boranbayevich, MD, MBA, Director of the Republican Coordinating Center for Stroke Problems JSC "National Center for Neurosurgery", Astana, Kazakhstan.
Zharkinbekova Nazira Asanovna, Candidate of Medical Sciences, Professor, Head of the Department of Neurology, Psychiatry, Rehabilitology and Neurosurgery of the South Kazakhstan Medical Academy. Chief freelance neurologist of the Turkestan region, Shymkent, Kazakhstan.
Burak Karaaslan, M.D. Gazi University Faculty of Medicine Dept., Ankara, Turkey.
Emrah Celtikci, M.D. Asst. Prof. Gazi University Faculty of Medicine Dept. of Neurosurgery Director of Connectome and Artificial Intelligence Labs. Ankara. Turkey.
Ahmet Memduh Kaymaz, PhD, Prof.Gazi University. Ankara. Turkey.
OscaraDjedem, PhD, Professor of the Department of Neurology at the University of Cherrahpasa, member of the ILAE Educational Commission and tutor of the VIREPA course, as well as among the organizers of the EPODES-Epilepsy Surgery course ILAE, Istanbul, Turkey
Holden Henry, BSc (Hons), PhD, MD, MRCP, Professor of Neurology and Neurogenetics, UCL Institute of Neurology, Queen Square, London.
KairzhanovRauanBagdanovich, BSc (Hons), MSc, MD, PhD fellow Department of Neuromuscular disorders, Institute of Neurology, University College London, Queen Square (Великобритания).
IllarioshkinSergeyNikolaevich, Deputy Director for Research of the Federal State Budgetary Scientific Institution "Scientific Center of Neurology", Director of the Institute of the Brain of the Federal State Budgetary Scientific Institution "Scientific Center of Neurology", Academician of the Russian Academy of Sciences, Doctor of Medical Sciences, Professor, Honored Scientist of the Russian Federation, laureate of the Prize of the Government of the Russian Federation in the field of science and technology, Laureate of the Prize of the Presidium of the Russian Academy of Medical Sciences in the field of fundamental medical research, Moscow, Russia
Tabiev Idil Iskandarovich, Chief Specialist of the GAUZ "Interregional Clinical and Diagnostic Center" for rehabilitation. Head of the educational course of the additional professional advanced training program of the GAUZ "MKDC" "Actual issues of early neurorehabilitation in stroke", Kazan, Russia.
Kamaeva Olga Viktorovna, Associate Professor of the Department of Nervous Diseases of St. Petersburg Medical University. Academician Pavlov, St. Petersburg, Russia.
Nasonova Tatiana Ivanovna, Doctor of Medical Sciences, Professor, Head of the Department of Neurology No. 1 of the P.L.Shupik National University of Health of Ukraine, Kiev, Ukraine.
Kurbatov Sergey Alexandrovich, Candidate of Medical Sciences, Senior Researcher, Geneticist, Neurologist, Neurophysiologist, Research Institute of EBM, VSMU. N.N. Burdenko, Voronezh LLC "Semantic Hub", Moscow, MC "Healthy Child", Voronezh, Russia.
DevlikamovaFaridaIldusovna, Doctor of Medical Sciences, Professor of the Department of Neurology of the Kazan State Medical Academy - a branch of the FGBOU DPO RMANPE of the Ministry of Health of Russia, Honored Doctor of the Republic of Tatarstan
The conference program can be viewed at the attached link: link

337 views