Department of Pharmaceutical Manufacturing Technology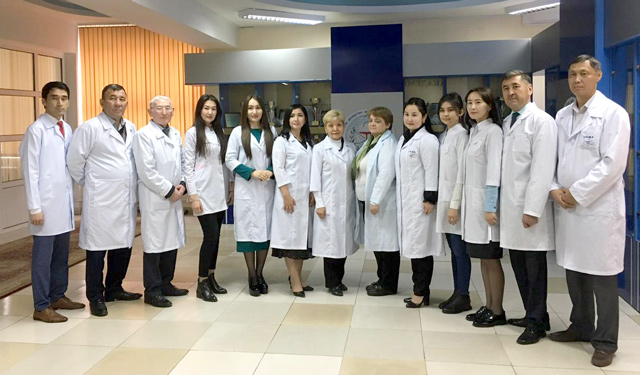 The department "Technologies of pharmaceutical production" began its activity in 2015, according to the № 78 order of the SKSPA rector on the reorganization of the department "Technologies of medicines and engineering disciplines". The candidate of pharmaceutical sciences, docent Torlanova Botagoz Ongarovna was appointed as a head of the department.
Arystanbaev Kuttybek Esengeldievich, candidate of technical sciences in the direction "Processes and devices of chemical technologies" and an associate professor in the specialty "Informatics, computer engineering and management", was appointed as a head of the department since September 2019.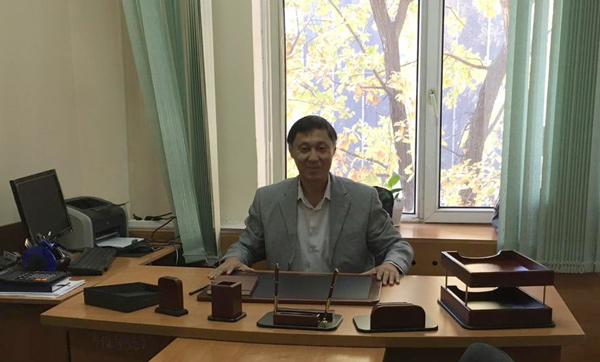 The head of the department Arystanbaev Kuttybek Esengeldievich
тел. +7-701-553-08-89
Goals and objectives of the department
- Introduction of non-linear paths for training specialists in accordance with the requirements of the labor market;
- Expansion of academic mobility;
- Integration of education and science, involvement of students in scientific work;
- Opening of a master's and Ph-doctoral programs in the specialty "TPP" in SKMA;
- Training of competitive specialists who meet the requirements of international standards of education and science;
Educational programs
1. Design of pharmaceutical production (design engineer)
2. Technology pharmaceutical production (equipment maintenance engineer)
Practice bases
In order to train highly qualified specialists, the department constantly works in close relationship with production bases. The process of passing educational, industrial and diploma practices is an important part of the educational process for students. The production bases of the southern region in the specialty – "Technology of pharmaceutical production" are "Zerde Phyto" LP, "Ecopharm International" LP, "SANTO" JSC, "Phyto Apifarm" LP, etc.
Scientific work of the Department
Under the guidance of teachers of the department, students of the specialty "Technology of pharmaceutical production" annually participate in the Republican student subject Contests (KazNMU named after S. D. Asfendiyarov, Almaty; KarSU named after E. A. Buketov, Karaganda).
Every year in the framework of the International scientific-practical student conference "Prospects for the development of biology, medicine and pharmacy", organized with the support of the Foundation of the First President of the Republic of Kazakhstan - N.A. Nazarbayev, the section "Biotechnology and Nanotechnology: A Look into the Future" works at the department of TPP.
Faculty members
1. Arystanbayev Kuttybek Esengeldievich – Head of the department, acting prof.
2. Torlanova Botagoz Ongarovna – acting prof.
3. Orymbetov Emit Mahatovich – acting prof.
4. Berdalieva Aydin Abdullayevna – Docent
5. Yerzhanov Nurlan Amirovich – Docent
6. Orymbetova Gulbagi Emitovna – Docent
7. Syzdykova Saulet Akmurzayevna – Docent
8. Umirbaeva Azhar Erezhepovna – PHD Docent
9. Mombayev Maksat – Senior instructor
10. Baizhanov Abilda Zhalgasovich – Senior instructor
11. Myrzakulov Musirali – Senior instructor
12. Romashko Anatoly Anatolyevich – Senior instructor
13. Zhuldyzbayev Nugman Esbolganovich – Senior instructor
14. Dauletbayeva Duysenkul – Senior instructor
15. Bakhtiyarova Balzhan Almakhanbetovna – Senior instructor
16. Umarov Askar Abilkasimovich – Senior instructor
17. Fayz Nursultan Saparovich – Senior instructor
18. Makhatov Zhaksylyk Baumanovich – Senior instructor
19. Mombaeva Aigerim - Instructor
20. Bakhytzhanova Ardak Bakhytzhanovna - Instructor
21. Serikbay Zharkynay Sultanbekovna – Instructor
22. Umirzakova Uldana Nuralievna – Instructor
23. Gilmanov Ravkat Abubakirovich – Instructor
24. Eginbay Aigerim Muratovna – Instructor
25. Islam Karlygash Sapibullaevna – Instructor
26. Karzhaubaeva Aishabibi– Instructor
27. Musrepova Aizhan – Instructor
28. Ismailoglu Melek – Instructor
29. Reimburse Nurgalym – Instructor
30. Baqaram Arailym – Instructor
The department is located at:
Shymkent city, Al-Farabi square 1, main building, 3-floor, 328-office
Tel: (87252) 39-31-41 (internal 202)
e-mail: 201ukgu@mail.ru
2022-07-01 21:15:49
10:19

398 views