Department of microbiology, virology and immunology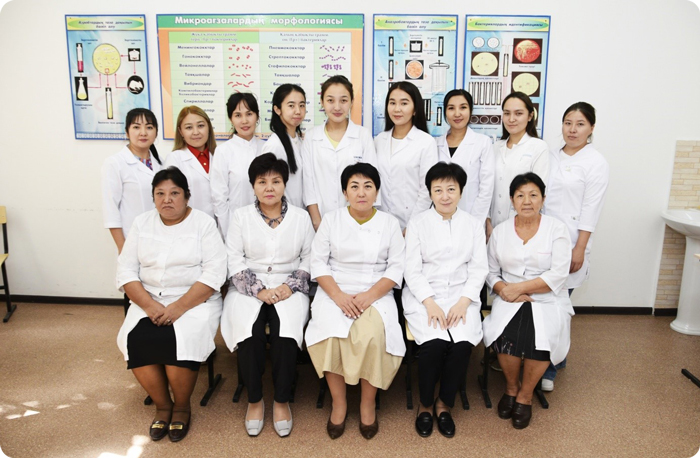 The Department of Microbiology was founded on the basis of the pharmaceutical faculty of the Shymkent branch of the ASMI in September 1980 and was part of the department of Morphological disciplines. Heads of the department were Ph.D., associate professor Morenko GS Yaroslavskaya EI, Mamin K.Sh., Murina N.M.
By opening of the "General Medicine" faculty, the department of microbiology in September 1994 gained independence. From this time until 1997, the department was headed by Associate Professor Arykpaeva U.T.
Over the years, the Department of Microbiology was headed by: MD, Associate Professor Bikchentaeva R.A. (1997) Doctor of Medical Sciences, Professor Sadykov Sh.B. (1997-1999), Ph.D., Associate Professor Maysarov D.A. (1999-2001 years), MD, associate professor Zhumashov S.N. (2001-2009), Doctor of Biological Sciences, Professor KO Sharipov (2009-2011), Ph.D. Esirkepov M.M. (2011-2015), Ph.D. Burabaev A.A. (2015-2018). Sakhno ON, Zhakipbekova BT, Alimzhanova GT, Omarova GS, Alibekov AA, Nurieva GS, Dzhanabaev RT, took part in the formation and development of the department of microbiology. , Ospanova E.N., Esenova Zh.Kh., Seythanova B.T., Kurmanbekova S.Zh., Mukhtarkyzy F., Zhanysbekova M.K., Abdramanova A.A. and many others.
Since July 1, 2018, the Department of Microbiology is headed by Doctor of Medical Sciences, Professor Seitkhanova B.T. At this time, the department is located on the 1st floor of the 2nd Academic building of the South Kazakhstan Medical Academy. The department has a modernly equipped educational and practical laboratory, which allows students and teachers to engage in educational and scientific activities. The faculty of the department developed and produced a number of printed works, including teaching aids, work programs and syllabuses in all specialties, as well as scientific articles, abstracts in the state and English languages. Employees of the department hold thematic conferences devoted to the fight against HIV infection, on the problems of bioterrorism and tuberculosis. The results of the research were reported at conferences, they were prepared for posters, models, stands that are used for demonstration in the educational process.
The department constantly conducts among students a variety of work on ideological, professional and patriotic education (celebrations dedicated to the Independence Day of the Republic of Kazakhstan, the New Year, Nauryz, Health Workers, meetings with scientists, artists, visiting museums, theaters; holding debates, round tables, etc.) According to decision of the Academic council them 29.06.2020 (protocol №14) the name of department was changed from "Microbiology" to "Microbiology, virology and immunology"
Head of Department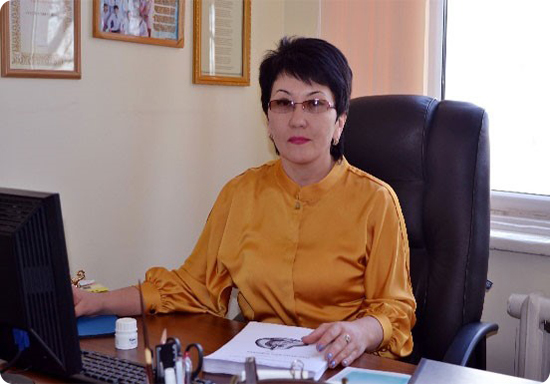 Seitkhanova Bibigul Tolegenkyzy
Head of the Department of Microbiology, virology and immunology, MD, Professor
The main goals and objectives of the department
The Department of Microbiology virology and immunology is one of the structural subdivisions of the SKMA, where highly qualified specialists work, whose main activity is the training of educated, competent specialists. The department has existed for almost 40 years, and its development has a positive, creative character. Department, as a living organism, grows, develops, reacts to the processes occurring in the academy, society and the state. The work of the department is carried out in accordance with the state educational standards and is aimed at high-quality practical and professional readiness of future specialists. The department operates in accordance with the annual plan, which covers educational and methodological, research, educational and social work. In order to discuss general issues of the department and make a decision, monthly, at least once a month, meetings and meetings of the department and methodological seminars on educational and methodical work are held. The department maintains documentation reflecting the content of the educational and scientific processes.
List of basic courses:
On average, in one academic year 700 students study in Microbiology, virology and immunology department. Students studying at the Department of Microbiology specialize in general medicine, pharmacy and public health.
The department conducts laboratory studies in general and private microbiology, clinical microbiology, immunology. At the department, students receive theoretical preparatory knowledge about on modern diagnostics of microbiological research, various areas of microbiology..
Education in Kazakh, Russian and English
50% of the subjects at the department are taught in the main language of instruction (Kazakh or Russian), 30% in the second language (Kazakh or Russian), respectively, 20% -. 30% is taught in English. From 2016, basic and specialized training courses will have to be taught in English. To improve English language skills, English courses were opened in 2017. About 10 teachers were trained and received a certificate. The department has the capacity and has the resources to teach in three languages.

Renewability of lectures
The Department of Microbiology virology and immunology has connections in various branches of research institutes, industrial enterprises, in the field of education and in scientific and practical projects. The Department of Microbiology has a connection with the CIS countries (Russia, Uzbekistan) as well as in foreign countries (Denmark, Poland, India, Romania, etc.) in the field of education and training of specialists.
Scientific approches of the department
The department has educational laboratories. Students have the opportunity to use the Internet information system for free. Employees of the department always carry out a great research work, in particular, the activity is associated with the problems of "Intestinal infection", "Clinical Microbiology". 2 doctoral dissertations, 1 master's thesis, 1 monograph, 1 electronic textbook, 1 textbook,
5 teaching materials (in Russian and Kazakh languages), collections of tests. Throughout the entire year of study, the student's scientific society works at the department, at the meetings of which students discuss the latest achievements in microbiology and carry out research work.
The teaching staff of the department:

1. Seitkhanova Bibigul Tolegenkyzy – head of the department, MD, professor.
2. Kurmanbekova Shyrynkul Zhumashovna – the senior teacher
3. Polatbekova Shapagat Nolegenkyzy – the senior teacher
4. Abdramanova Aigerim Asylkhanovna – the senior teacher
5. Odzyal Dayana Eduardovna – the senior teacher
6. Argimbek Maral Pernebekovna – the senior teacher
7. Sadybek Uldana Abilkyzy – the senior teacher
8. Shishkina Tatyana Sergeevna – a teacher
9. Serikpaeva Tamara Tulkibaevna – a teacher
10. Oralbek Arailym Tanirbergengyzy – a teacher
11. Nakyp Nurgali Sakenuly – a teacher
12. Qontay Assel Baglankyzy – a teacher
Laboratory assistants:

1. Duisebekova Gulzat Tulembaevna – Sr. Laboratory Assistant
2. Pralieva Kulsun Eshmakhanbetovna – laboratory assistant
3. Ibraim Aidana Ergeshkyzy – laboratory assistant
Department address:
Shymkent, Sq. Al-Farabi, 3, building №2
phone: 8 (7252) 39-57-57 (ext. 1051)
E-mail: mikrobio.ukma@mail.ru
2023-04-02 09:02:17
12:40

1095 views